Gary began his career as a real estate entrepreneur in the 1980's. Following the successful management of a 45-agent real estate office, he expanded his advisory capacity to the investment securities industry.
Gary gained invaluable experience in the financial field working for some of the largest brokerage companies in the world today. Gary was first hired by Merrill Lynch as a financial consultant, and was later recruited as a financial advisor by PaineWebber, which was subsequently taken over by UBS.
Gary's business philosophy is built on solid private client relationships that are based on high levels of trust, and individually customized service. As the corporate landscape evolved, Gary became increasingly convinced that the most effective way to successfully apply this philosophy was to depart from the mega-size firms and form his own private practice. And so after 17 years in the investment management business, Gary founded "Packnick Financial, LLC" in 2007.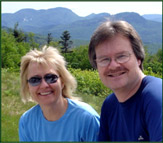 Gary and his wife Mary have been blessed with four wonderful children, and reside in New Hampshire. They love the outdoors, and enjoy kayaking and backpacking in New England's White Mountains. Locally they actively support an inter-faith Christian retreat center called Singing Hills, and have served as volunteer ministers in church Sunday School programs for children. Gary also writes and records music, and has lead Worship Services in various venues. They enjoy life, and helping others do the same!
---
Securities Registrations:
Series 07 - General Securities
Series 24 - Securities Principal
Series 63 - Uniform State
Series 65 - Investment Advisor
Insurance Licensing:
Health
Life
Variable Annuities
Variable Life
Long Term Care
Exchange Registrations:
FINRA is the Financial Industry Regulatory Authority, and was created in July of 2007 through the consolidation of NASD and NYSE Member Regulation. It is the largest non-governmental regulator for all securities firms doing business with the U.S. public.